Bonjour! I'm back from extended hiatus. The unforeseen long break can — for the most part — be blamed on my archaic laptop. Well, that and my serious lack of patience. The poor, old girl was taking upwards of five minutes (I kid you not) to open a photo. And that was only when she didn't completely freeze in the process. I decided to simply walk away until I had time to perform a clean install of XP, hoping that everything would return to sunshine and rainbows. Luckily, it did the trick and I'm back in business.
The last two months have been fairly docile, however, so you haven't missed much. I survived my 30th birthday and have been enjoying the foray into my fourth decade, including a weekend trip to Los Angeles to celebrate with my college friend, Melanie — a little birthday gift to myself. We had a fabulous time and I even had two celebrity sightings;
Nicole Richie
, eating (!) at a Mexican restaurant (she struck me as surprising normal — I always knew Lionel couldn't completely fail as a father) and
Jeffrey Dean Morgan
, just hanging out at a bar, having a beer, surrounded by fawning, skinny blondes. OK, I fawned a little, too, but from across the room … and since I'm a brunette it doesn't count.
In news from the home front, Morgan had his ACL reconstructed at the beginning of May as the result of a several-month-old soccer injury, so we've been sticking around the house for the past few weeks. Physical therapy starts next week and I'm very much looking forward to having a good-as-new husband within the coming months. Seeing him endure surgery and the beginnings of what is foretold to be fairly long recovery (six full months for sports; a full year to 100 percent) has made me incredibly appreciative of my knees. I've been taking two or three spinning classes at my gym each week and long walks after work. Good knees are a blessing and should be used to their fullest!
It has finally thawed a bit, too, since my report of snow on the tulips; we've actually hit the low-70s a couple times in the past few weeks. And with the fear of frost passing, we have decided to try our hands as vegetable gardeners / "
As Seen on TV
" testers for the
Topsy Turvy Tomato Planter
. The bags were on sale for $9.99 at Walgreens and because we already planted a failed trough of asparagus shortly before Easter, an attempt at growing things above ground seems like an excellent idea. We picked up starts of cherry tomatoes, yellow summer squash and burpless cucumbers at the most awesome nursery in the entire universe,
Flower World
. It's 15 gorgeous acres of every plant, tree, shrub and any other type of foliage you can possibly imagine. If you live within 500 miles, I strongly suggest making the trip.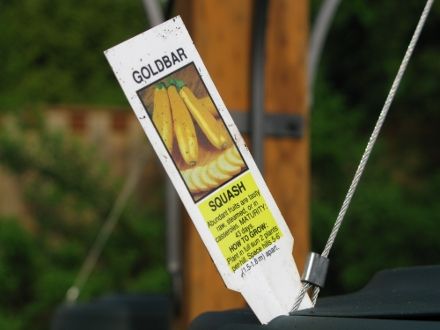 I found the
"burpless" cucumber
name quite amusing and looked up its origin. Apparently they have less of the bitter compound found in traditional American cucumbers and are actually supposed to produce fewer burps. I've never found the standard variety cucumber to be particularly belch-inducing, but perhaps some people have this issue. Who knows.
Anyway, I'll keep you updated on the vegetable progress. Hopefully there won't be terrible disappointment to follow … please send good veggie wishes my way!