Note to self: if you've already made a recipe and it worked out OK, don't mess with it.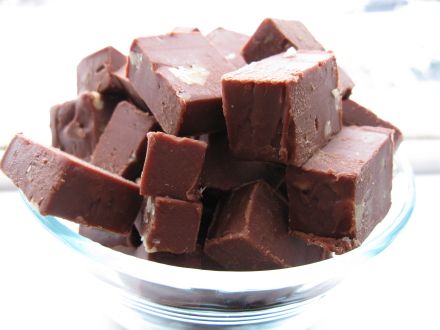 I learned my lesson. I decided to make fudge for all of my and Morgan's co-workers this week, a recipe I've made many times successfully, but failed miserably. My thermometer has a candy attachment that I've been dying to use, so instead of cooking the base for five minutes as the recipe instructed, I used my thermometer and cooked it to softball stage, 235F. And I promptly ended up with a separated, oily, crumbly, inedible mess.
Take two.
Followed the recipe to a T and voila! Perfectly smooth, creamy, delicious fudge. I found the cutest little red boxes at
the Container Store
and now just have to escape the snow storm we're having and make it into the office for delivery!
Ingredients
1 (7 ounce) jar marshmallow creme
1 1/2 cups white sugar
2/3 cup evaporated milk
1/4 cup butter
1/4 teaspoon salt
2 cups milk chocolate chips
1 cup semisweet chocolate chips
1/2 cup chopped nuts
1 teaspoon vanilla extract

Directions
Line an 8x8 inch pan with aluminum foil. Set aside.

In a large saucepan over medium heat, combine marshmallow cream, sugar, evaporated milk, butter and salt. Bring to a full boil, and cook for 5 minutes, stirring constantly.

Remove from heat and pour in semisweet chocolate chips and milk chocolate chips. Stir until chocolate is melted and mixture is smooth. Stir in nuts and vanilla. Pour into prepared pan.

Chill in refrigerator for 2 hours, or until firm.